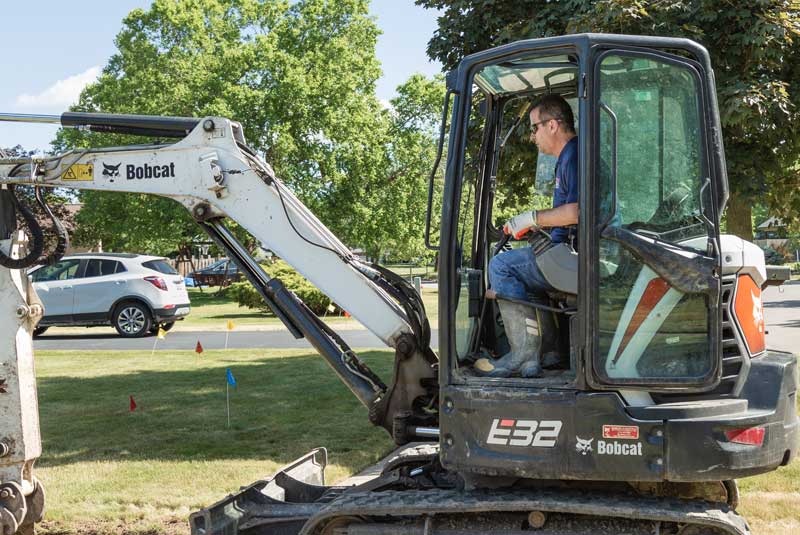 When your water service in Buffalo needs repair, T-Mark Plumbing, Heating, Cooling & Electric can help. We'll take care of things quickly and efficiently so you don't have to worry!
Extensive experience and professionalism in your home and yard
Our Underground Repair Teams have been working together with over 100 Years of Combined Excavation Experience. Through the use of fiber optic video inspections, plus sewer and water line-locating equipment, there is no guesswork involved in our digging. That means a smaller footprint on your yard, a quicker job for your schedule, and a more affordable price for your wallet.
Through the use of hydraulic pushing equipment, we are often able to repair or replace water lines quickly and efficiently. We can use this equipment to push through hard ground so that very little digging of your lawn is necessary.
Safety and efficiency – T-Mark Plumbing, Heating, Cooling & Electric will take care of your water lines
T-Mark Plumbing, Heating, Cooling & Electric is able to take care of all the permitting in cooperation with all individual town, city, and municipal codes. We make all necessary preparations with other agencies to ensure a fast and efficient excavation process. This is how we deliver our services at a lower cost than our competitors and can bring you superior service.
None of our excavations are subcontracted; meaning the technician who shows up on day one to help you with your estimate will be there throughout the entire process. This allows us to guarantee top-quality service each and every time. We are proud to truly offer the best experience to our neighbors in Buffalo and WNY. You can trust us to take care of your home.
Trust T-Mark Plumbing, Heating, Cooling & Electric to service your water lines.
We proudly offer $0 Down and special financing with approved credit on all of our work performed. For Trenchless water service repair please call us at (716) 249-0029 and we'll take care of you.
Trenchless Water Service Repair, Water Line Repair & Water Line Services

Buffalo, NY, Kenmore, NY, Ellicottville, NY, Hamburg, NY, Amherst, NY & Orchard Park, NY
Trenchless Water Service Repair in Amherst, NY | Water Line Services Tonawanda, NY | Water Line Repair Hamburg, NY
Water Line Services

∴

Trenchless Water Service Repair

∴

Water Line Repair ∴ Hamburg, NY ∴ Kenmore, NY ∴ Tonawanda, NY