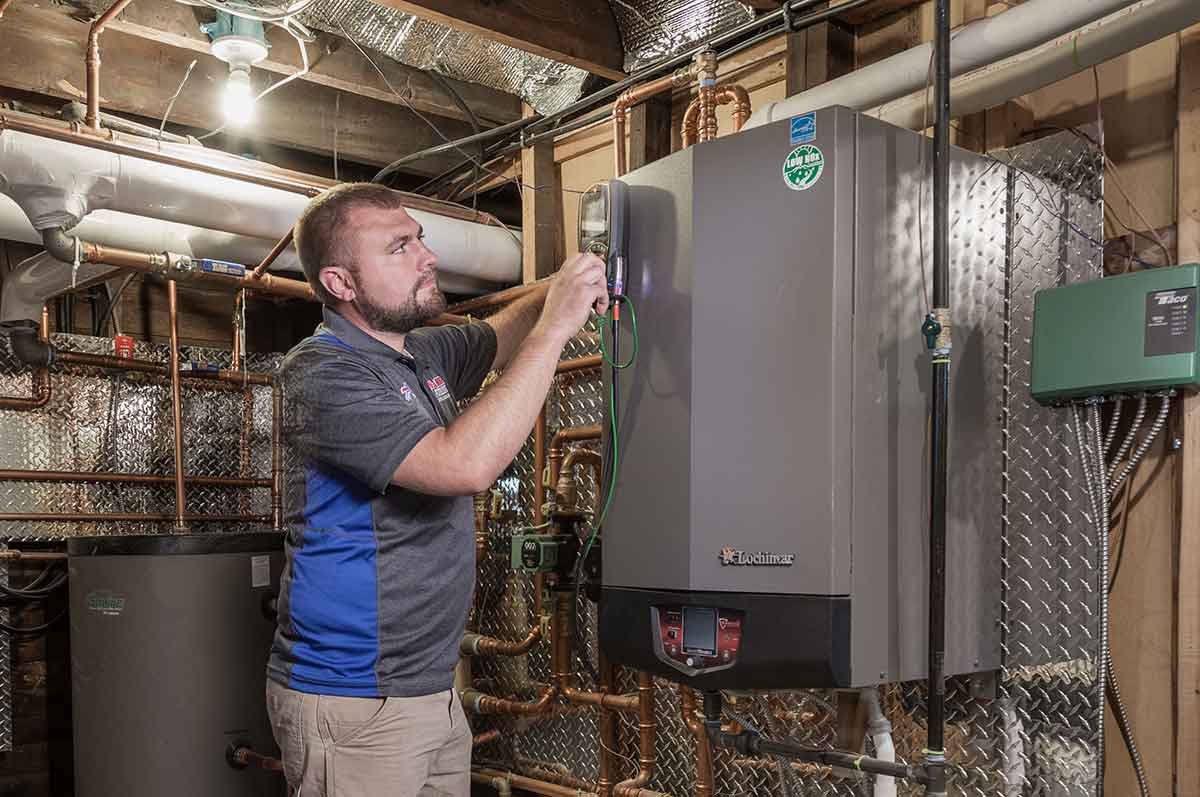 T-Mark Plumbing, Heating, Cooling & Electric combats the challenges of local weather and today's rising energy costs with a comprehensive line of tankless water heaters.  Combining innovative technology and exceptional functionality, tankless water heating enhances everyday life with an ample supply of clean, hot water on demand.  To determine whether a tankless unit is the right solution for your household needs, call on the experts from T-Mark Plumbing, Heating, Cooling & Electric.  We customize our recommendations to suit your specifications, deliver cost-effective results, and manage your installation project to strict standards of quality.  T-Mark Plumbing, Heating, Cooling & Electric provides a complete range of water heating services in Buffalo and Western New York, including tank-style to tankless conversion, regular upkeep, scheduled repair, and 24/7 Emergency Repair.
Enjoy innovative tankless water heating with installations from our team!
Family-owned and operated, T-Mark Plumbing, Heating, Cooling & Electric draws from over twenty years of service throughout Buffalo and Western New York.  Our technicians are fully licensed, trained to exacting criteria, and remain current with evolving technology.  By meeting household demand with the optimum water heating options, we effectively trim monthly costs, maximize system life, and ensure reliability.  Call on T-Mark Plumbing, Heating, Cooling & Electric at (716) 249-0029 for further information, quick turnaround on all projects, and solutions you can trust.  We're here to make your life easier.
Consider the outstanding benefits of tankless water heating, including:
Hot water right when you want it – Eliminate the wait for water to heat up and never run short of hot water.
Space savings – With options that are the approximate size and weight of a small suitcase, and mount on an interior or exterior wall, you gain valuable space.
Energy efficient – Because there is none of the standby energy losses of traditional tank-style water heaters, tankless units significantly lower monthly costs.
Digital display – Digital displays are a helpful feature, providing accurate temperature settings and maintenance codes.
Remote controls – Enjoy the convenience of a digital remote control to make changes to temperature settings.
Safety – Advanced sensors protect against overheating.
Reliability – Built-in self-diagnostic programs simplify troubleshooting.
No flooding – There is risk of damage from flooding or leaks from a corroded or ruptured tank.
Longevity – Tankless water heaters can be expected to last more than twenty years, and easily replaceable parts extend life span.
Clean water – Water isn't stored in a tank, absorbing contaminants, to ensure cleanliness.
Tankless Water Heater Maintenance, Tankless Water Heater Repair & Tankless Water Heater Service

Buffalo, NY, Hamburg, NY, Ellicottville, NY, Amherst, NY, Cheektowaga, NY & Tonawanda, NY
Tankless Water Heater Service in Tonawanda, NY | Tankless Water Heater Maintenance Kenmore, NY | Tankless Water Heater Repair Ellicottville, NY
Tankless Water Heater Replacement

∴

Tankless Water Heater Maintenance

∴

Tankless Water Heater Repair

∴

Tankless Water Heater Service

∴

Tankless Water Heater Installation ∴ Kenmore, NY ∴ Tonawanda, NY ∴ Ellicottville, NY