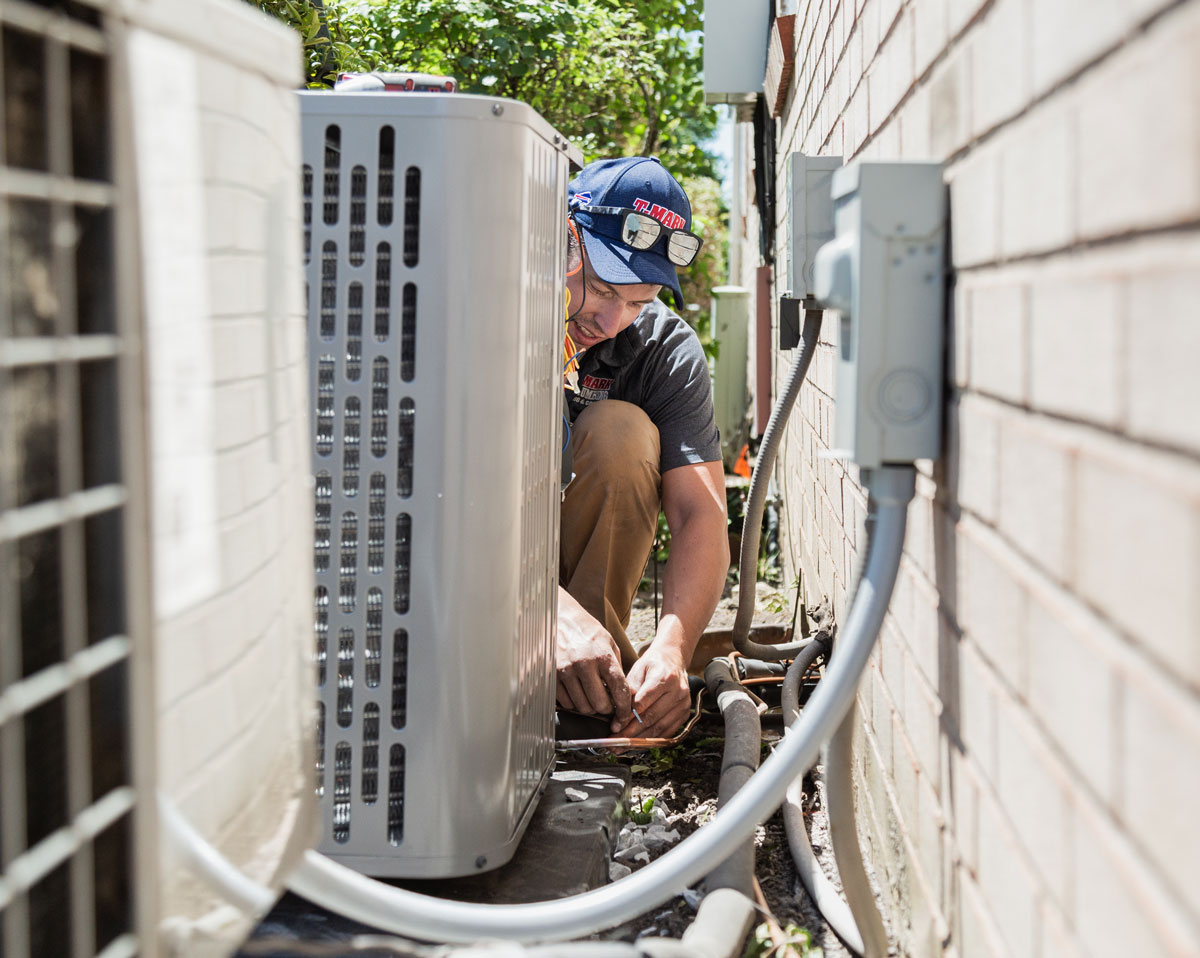 Call on T-Mark Plumbing, Heating, Cooling & Electric to keep your air conditioner working at its best.  No matter the make, model, or style of cooling equipment, our qualified technicians optimize performance.  The service is quick, hassle-free, and cost-effective.
Dependable Service for Your AC System
Contact us at (716) 249-0029, and we'll schedule an appointment time that works for you.  Our highly qualified, dedicated technicians show up right on time, protect your home from damage, and clean up after the job.  We adhere to a strict checklist of tasks, effectively cleaning, tuning, and troubleshooting to restore peak condition of your air conditioner.
Call today for air conditioning service you can count on!
T-Mark Plumbing, Heating, Cooling & Electric strives to work above and beyond the rest.  Taking advantage of advanced diagnostic technology, we catch and correct minor issues before they graduate into major malfunctions.  By thoroughly inspecting all components and making necessary adjustments, we restore maximum cooling capacity, minimize sound levels, achieve peak energy efficiency, combat property damage, enhance dehumidification capability, protect air quality, prevent the majority of repairs, extend service life, and fulfill manufacturer's warranty requirements.  At T-Mark Plumbing, Heating, Cooling & Electric, we do the job right the first time, ensuring comfort and earning the satisfaction of residential and commercial customers across Buffalo, NY, West Seneca, NY, Ellicottville, NY, Clarence, NY and the rest of the greater WNY area.
HVAC Service, AC Service, Air Conditioning Service, Air Conditioner Maintenance in Buffalo, NY, West Seneca, NY, Ellicottville, NY, Clarence, NY and the rest of the greater WNY area
Air Conditioner Service, Air Conditioning Maintenance & AC Maintenance

Buffalo, NY, Cheektowaga, NY, Clarence, NY, Ellicottville, NY, Kenmore, NY & Tonawanda, NY
Air Conditioning Preventative Maintenance & Air Conditioning Maintenance in Hamburg, NY
Air Conditioning Preventative Maintenance ∴ Amherst, NY ∴ Cheektowaga, NY ∴ Hamburg, NY