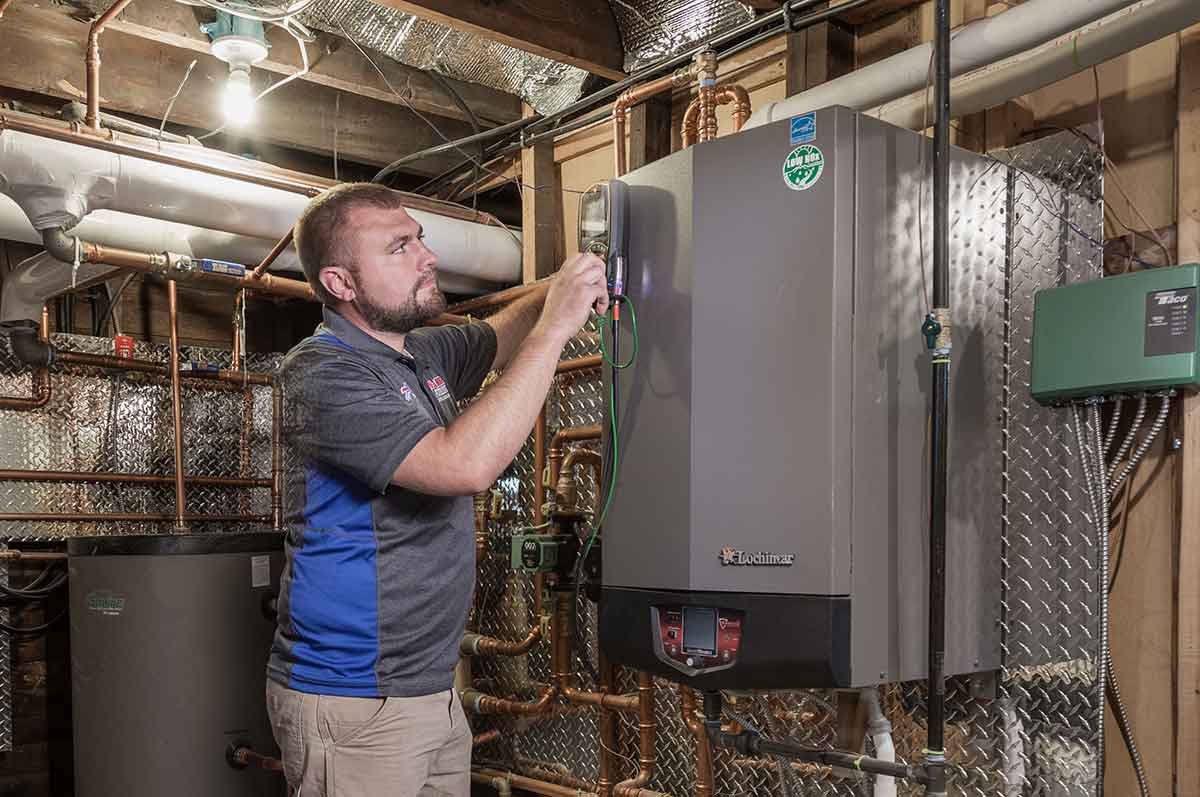 Whether you're installing a new boiler system, replacing outdated components, or adding baseboard heating to an addition, there are numerous decisions to make.  The brand, size, style, features, and efficiency ratings all impact budget, comfort, and long-term reliability.  The most important decision is the installation team you choose to trust.  At T-Mark Plumbing, Heating, Cooling & Electric we handle every aspect of your project, providing the information, honest answers, and recommendations you need to get everything else right.  We know that every home and lifestyle has unique demands and that improvements you've made over the years affect heating load.  There are no cookie-cutter heating systems, and by customizing a solution to suit, T-Mark Plumbing, Heating, Cooling & Electric better serves your best interests.
Professional Boiler Installation Service
Due to the long winters and often severe weather in Buffalo and Western New York, your boiler carries a heavy workload.  There's no room for substandard products, installation errors, or improperly sized systems.  Family-owned and operated, T-Mark Plumbing, Heating, Cooling & Electric focuses on 100% customer satisfaction, and with over twenty years in business, we are fully prepared to perfect your comfort.  We don't rely on subcontractors and hold ourselves to rigid standards of job performance.  Drawing from extensive project management experience, all jobs are completed quickly, to your specifications, and without major disruptions.  Contact T-Mark Plumbing, Heating, Cooling & Electric at (716) 249-0029 for the right solution to any challenge and rewarding results throughout Buffalo, NY, West Seneca, NY, Ellicottville, NY, Clarence, NY and the rest of the greater WNY area.
---
Count on us for your Boiler Replacement Services
Boiler System Installation, Boiler Installation Services & Boiler Installation

Buffalo, NY, Amherst, NY, Cheektowaga, NY, Kenmore, NY, Clarence, NY & Ellicottville, NY
Boiler Installation in Amherst, NY | Boiler System Replacement Clarence, NY | Boiler Replacement Hamburg, NY
Boiler System Installation

∴

Boiler Replacement

∴

Boiler Installation Services

∴

Boiler System Replacement

∴

Boiler Installation ∴ Kenmore, NY ∴ Cheektowaga, NY ∴ Tonawanda, NY