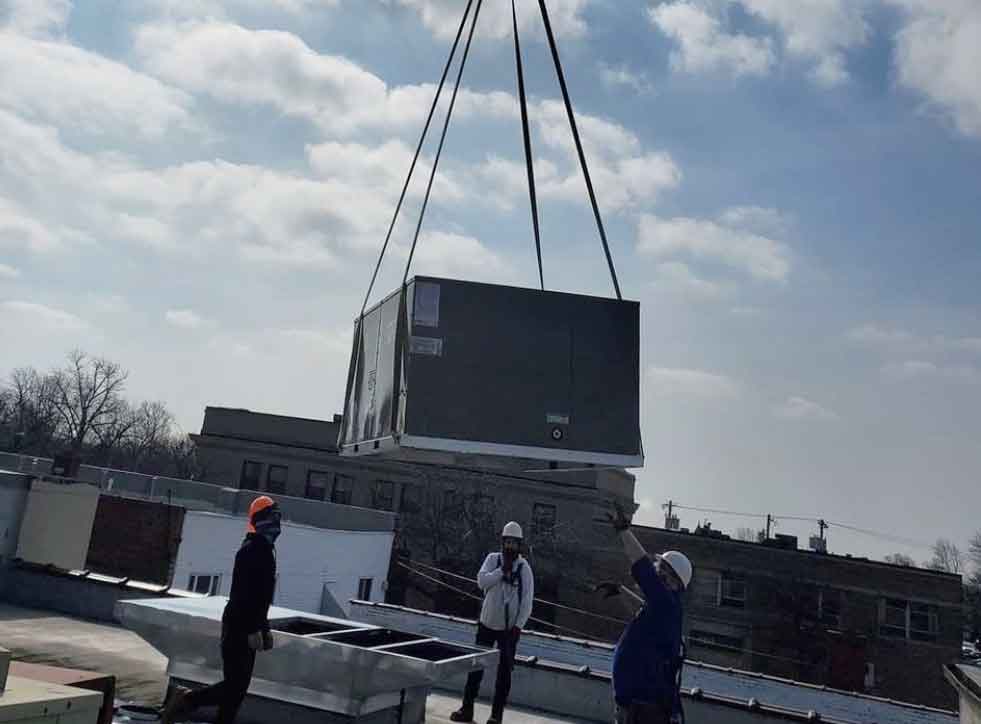 Extreme temperatures, harsh weather conditions, and those long, brutal winters in Buffalo and Western New York create a costly and ongoing challenge when it comes to indoor comfort.  With over twenty years of industry experience, T-Mark Plumbing, Heating, Cooling & Electric has tailored our services to simplify temperature control for our commercial customers.  We recommend only those products with proven reliability, exceptional energy efficiency, and long-term durability.  With flexible scheduling and quick turnaround, we minimize inconvenience and downtime for all projects.  Our focus is 100% customer satisfaction, and we earn it through superior results.
Dependable Commercial Heating & Cooling Services
Providing commercial HVAC installation, maintenance, and repair, T-Mark Plumbing, Heating, Cooling & Electric protects the value of your investment.  We offer a wide range of heating and cooling options, and our highly trained technicians work with you to determine the specific goals, requirements, and expectations of your commercial facility.  By custom designing, accurately sizing, and meticulously installing a quality system, we ensure lower running costs, more consistent temperatures, greater dependability, and extended service life.  Through state-of-the-art innovations, we deliver ease of management and more targeted control, improving air quality, energy efficiency, and overall comfort.
Commercial HVAC repairs, service, and installations you can trust!
When you put T-Mark Plumbing, Heating, Cooling & Electric in charge of your temperature control needs, we take on the work, worry, and responsibility.  We put our skilled services at your disposal, providing everything you need to optimize the health, productivity, and bottom line of your business.  Call on us at (716) 249-0029 for HVAC system replacement, new installation, seasonal upkeep, and prompt repairs, and we'll always answer with prompt, professional, and cost-effective service.  T-Mark Plumbing, Heating, Cooling & Electric is here to serve your needs with 24/7 Emergency Response throughout Buffalo, NY, West Seneca, NY, Ellicottville, NY, Clarence, NY and the rest of the greater WNY area.
Commercial HVAC Service, Commercial HVAC Maintenance & Commercial HVAC Repair

Buffalo, NY, Orchard Park, NY, Hamburg, NY, Amherst, NY, Clarence, NY & Cheektowaga, NY
Commercial HVAC Repair in Hamburg, NY | Commercial HVAC System Installation Kenmore, NY | Commercial HVAC Maintenance Clarence, NY
Commercial HVAC System Installation

∴

Commercial HVAC Repair

∴

Commercial HVAC Maintenance

∴

Commercial HVAC Service ∴ Ellicottville, NY ∴ Hamburg, NY ∴ Cheektowaga, NY