Book an AC System Estimate with T-Mark

and get entered to win 2 Season Tickets for the 2023-24 Buffalo Bills Season.

Get ready for summer and Bills season with T-Mark. When you book an AC System estimate between May 8th and June 5th, you will be entered to win 2 Season Tickets to the 2023-24 Buffalo Bills Season.

Summers get hot in WNY and the Bills are gonna be even hotter. Don't miss this great way to be ready for every season.

Simply fill out the form below and a T-Mark team member will reach out to you during normal business hours. Or, give us a call at (716) 732-0002. Stay cool as the Bills get hot!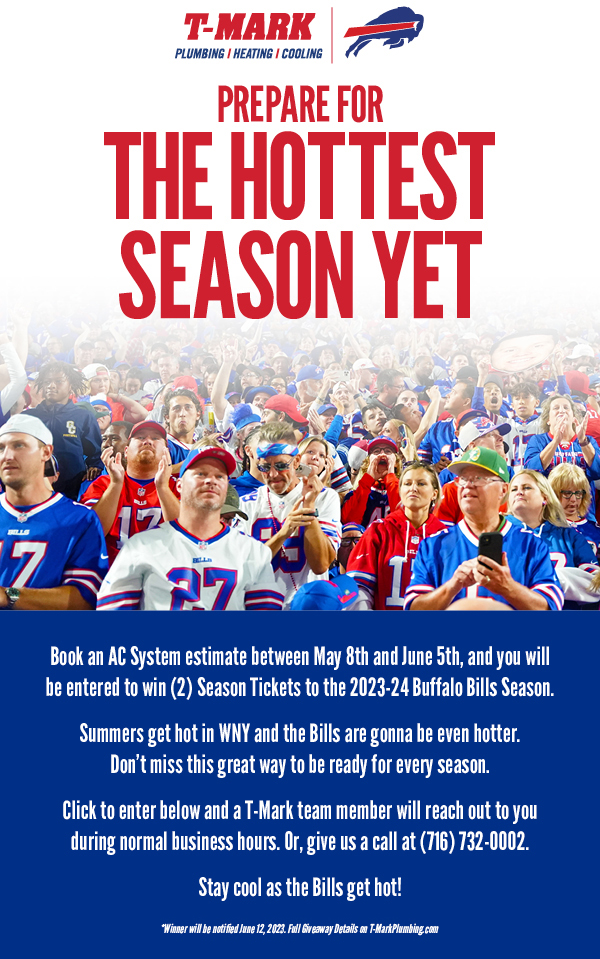 The winner will be notified June 12, 2023.
No purchase is necessary for entry. Only one entry per household. T-Mark employees and family members are not eligible for the prize. There will be only 1 winner. The winner must be within the T-Mark service area. One entry is awarded based on booking and receiving an Air Conditioning System estimate from T-Mark. You can also enter by sending a letter requesting an entry into the giveaway with your name, address, phone number, and email address to T-Mark Plumbing, ATTN: Chill with the Bills, 577 Englewood Ave, Buffalo, NY 14223, postmarked by June 5th, 2023.