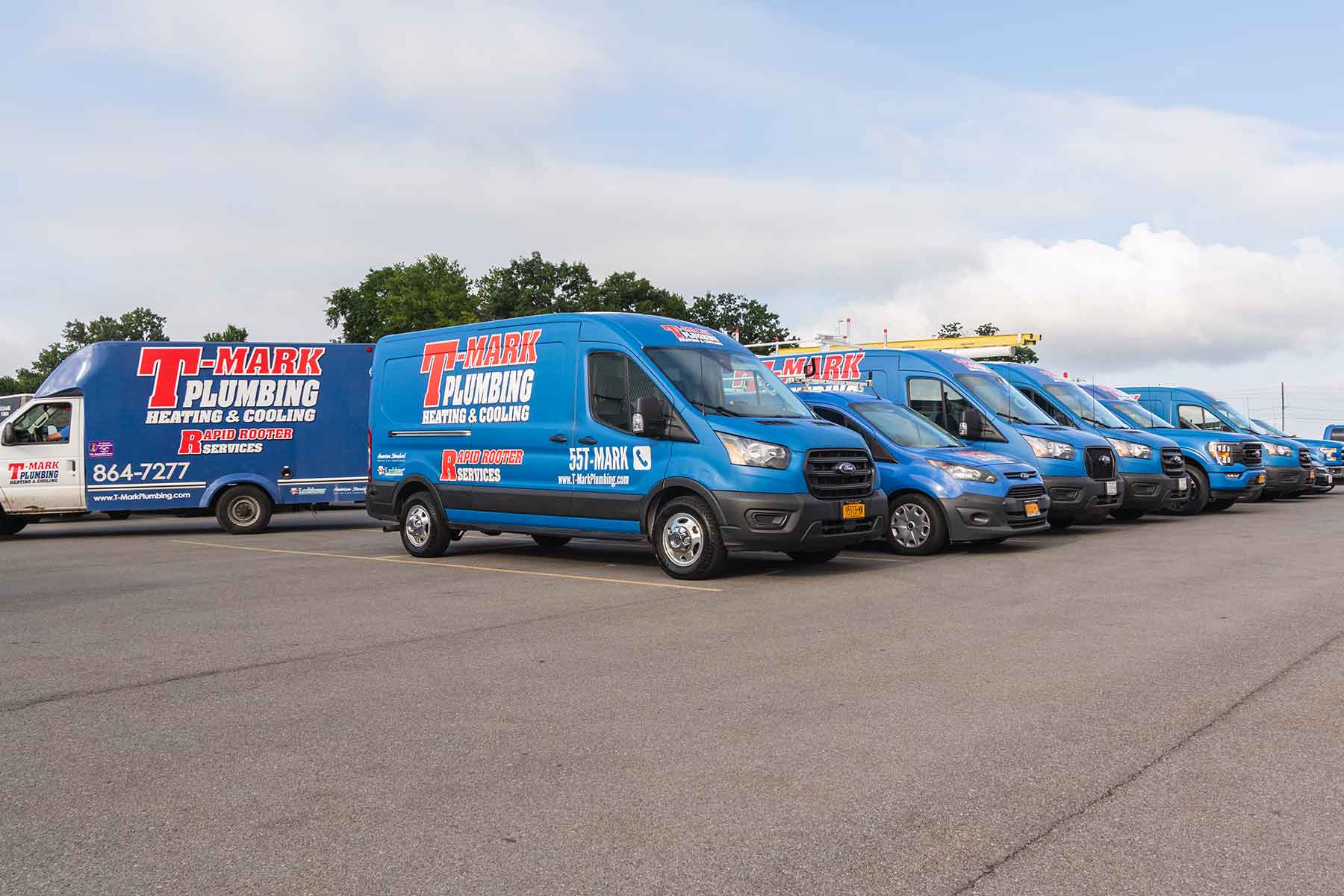 T-Mark is proud to have been serving Buffalo, NY for over 20 years. We've handled the largest and smallest plumbing & HVAC jobs throughout Erie County providing excellent customer service. We have the experience and skills to handle all heating, air conditioning, and plumbing jobs no matter the size. We are also proud to offer 24/7 service, so if you have an HVAC or plumbing emergency in the middle of the night, don't hesitate to call T-Mark Plumbing, Heating & Cooling.
Buffalo's Best Plumbers
If you are experiencing plumbing issues, make sure you call the experts at T-Mark Plumbing, Heating & Cooling. Whether your toilet or sink is clogged, or you have a drain backing up in your basement, we're here to help. You don't want to have an inexperienced team working on your home, so for quality plumbing, drain cleaning, hot water tank repair/installation make sure you call the experts.
T-Mark is also experienced in water filtration services, garbage disposal repair & installation, backflow services, natural gas line repair or installation, video sewer drain video inspections, sewer pressure jetting, and trenchless water service repairs. We're proud to have a team of experts available 24/7 to help you with all of your plumbing needs. So if you need any sort of plumbing repair or advice, call T-Mark Plumbing, Heating & Cooling at (716) 249-0029 today!
Furnace & Boiler Repair & Service in Buffalo, NY
Winter in Buffalo is no joke and if your furnace breaks we understand that you need to repair or replace it right away. T-Mark Plumbing, Heating & Cooling has a team of heating experts standing by to repair and install an energy-efficient furnace in your home. We also specialize in heating service, which can actually help you save money each month on your energy bill. By performing routine furnace service, you can increase the efficiency of your furnace. Not only can it help your furnace run more efficiently, but it can also prolong the life of your heating system as well. By allowing your furnace to run more efficiently, it doesn't have to work as hard to keep your home warm which will help it run without flaw for years to come.
Buffalo's Premier Air Conditioning Repair, Service & Installation Company
You and your family probably want to beat the heat this summer. Don't keep masking the heat with dozens of fans spread around your home, allow T-Mark Plumbing, Heating & Cooling to help you install a new energy-efficient whole-home air conditioner at your home. If you already have central air conditioning, we can help you service your air conditioner to help it run more reliably and efficiently. If your air conditioner does break throughout the cooling season, we can help you with your AC repair in a timely manner. For expert ac repair, service & installation services, call T-Mark Plumbing, Heating & Cooling at (716) 249-0029.
Expert Plumbers & HVAC Company
T-Mark Plumbing, Heating & Cooling has the manpower and experience to handle your plumbing emergency or HVAC project in a timely manner. We always take the time to make sure each of our customers is satisfied with our work. Whether you need general plumbing repair, furnace repair or service, or air conditioning installation, T-Mark's expert staff is here to help. For over 20 year's we have been providing Tonawanda with excellent service, if you're within a 30-mile radius of Buffalo, don't hesitate to give us a call to take care of your plumbing or HVAC project.
AC Repair, Air Conditioner Installation & Air Conditioning Repair

Buffalo, NY, North Buffalo, NY & South Buffalo, NY
Air Conditioner Installation in Buffalo, NY | Air Conditioning Repair North Buffalo, NY | Plumbing Service South Buffalo, NY
Heating Service

∴

AC Repair

∴

Air Conditioner Installation

∴

Plumbing Service

∴

Air Conditioning Repair ∴ South Buffalo, NY ∴ Buffalo, NY ∴ North Buffalo, NY