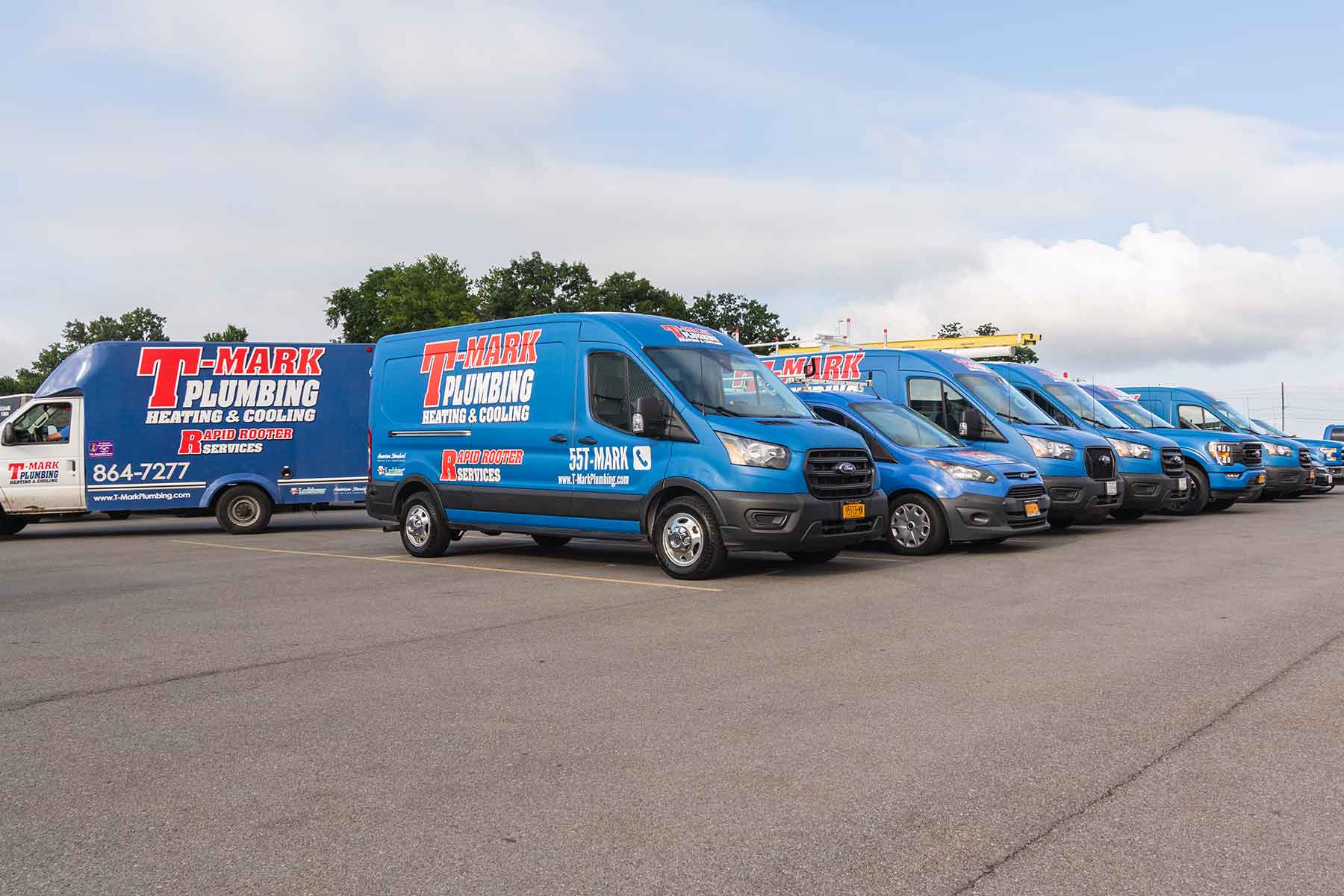 For over 20 years, T-Mark Plumbing, Heating, Cooling & Electric has been Tonawanda's premier plumbing and HVAC company. It doesn't matter how large or small the job is, we're here for all of our customers. Whether you need jet your drain or repair your boiler, our team of experts knows how to handle the job in a timely manner. It doesn't matter if you need our help at 8 am or midnight, T-Mark Plumbing, Heating, Cooling & Electric offers 24/7 service in Tonawanda to make sure each of our customers can live comfortably in their own home. We know plumbing and HVAC emergencies are never expected, but if they do happen, you shouldn't have to wait until tomorrow for help.
Plumbing Repair & Service in Tonawanda, NY
T-Mark Plumbing, Heating, Cooling & Electric offers numerous different plumbing services in Tonawanda. Whether you need general plumbing repair and service, sump pump installation, or you just need someone to find out why there's water backing up in your basement, we can help diagnose and address the problem. We also specialize in the installation and repair of hot water tanks and tankless water heaters. If you notice your shower is cold even when no one is using the hot water, feel free to give us a call to see if we can help fix or replace your old hot water tank.
T-Mark also proudly offers other plumbing services such as; natural gas line installation & repair, water filtration, garbage disposal repair or installation, backflow services, trenchless water service repair, sewer/drain video inspections, & drain jetting. So no matter what type of plumbing job you have in mind, T-Mark has the experience and equipment to get the job done right.
Tonawanda's Best Furnace & Boiler Repair Company
Keeping warm when it's snowing outside can be difficult, but T-Mark Plumbing, Heating, Cooling & Electric is here to make it easier by keeping your furnace or boiler running efficiently all winter long. Whether you need boiler repair, or service or are looking to install a new boiler in your home, we have a team of experts who can help install it correctly and quickly. We also specialize in furnace repair & service as well, a typical home in Tonawanda has a gas furnace, and we can help repair & service your furnace to help keep it running efficiently, saving you money on your energy bill. If your old furnace would cost too much to repair, maybe it would be worth replacing it with an energy-efficient new furnace. We can work with you and your budget to find out if a new furnace replacement would be the most cost-effective solution to your heating needs. For boiler & furnace services, don't hesitate to call T-Mark Plumbing, Heating, Cooling & Electric at (716) 249-0029.
Quality AC Repair & Service – Air Conditioning Installation in Tonawanda, NY
T-Mark can help keep you cool this summer with quality air conditioning installation & service. Tonawanda can get humid during the summer months, so even if it's not over 90 degrees, it can sure feel like it in your home. Allow us to help service your air conditioner to make sure it's running efficiently all summer long, so you're not wasting your hard-earned money because there is dust built up on your air conditioner's fan blade. AC Service can also help improve the quality of air in your home, reducing allergens and bacteria, which can help keep your family healthy.
Our team of experts also specializes in AC repair & installation. So if your air conditioner breaks, we can work with your budget in mind to see if repairing your air conditioner would make sense, or if the sum of the parts failed on your old system would make it more worthwhile to just replace it with a modern, energy-efficient air conditioner. T-Mark Plumbing, Heating, Cooling & Electric is willing to work with you and inform you, so you can make the best possible decision for you and your family.
Our Tonawanda HVAC, Plumbing & Electrical Services Include:
Emergency Plumbing
Plumbing Service
AC Repair
AC Installation
AC Repair, Furnace Repair & Heating Service

Town Of Tonawanda, NY, City Of Tonawanda, NY & Tonawanda, NY
Furnace Repair in Tonawanda, NY | HVAC Service City Of Tonawanda, NY | Air Conditioner Installation Town Of Tonawanda, NY
Heating Service

∴

AC Repair

∴

Plumbing Service

∴

HVAC Service

∴

Air Conditioning Repair ∴ Tonawanda, NY ∴ City Of Tonawanda, NY ∴ Town Of Tonawanda, NY