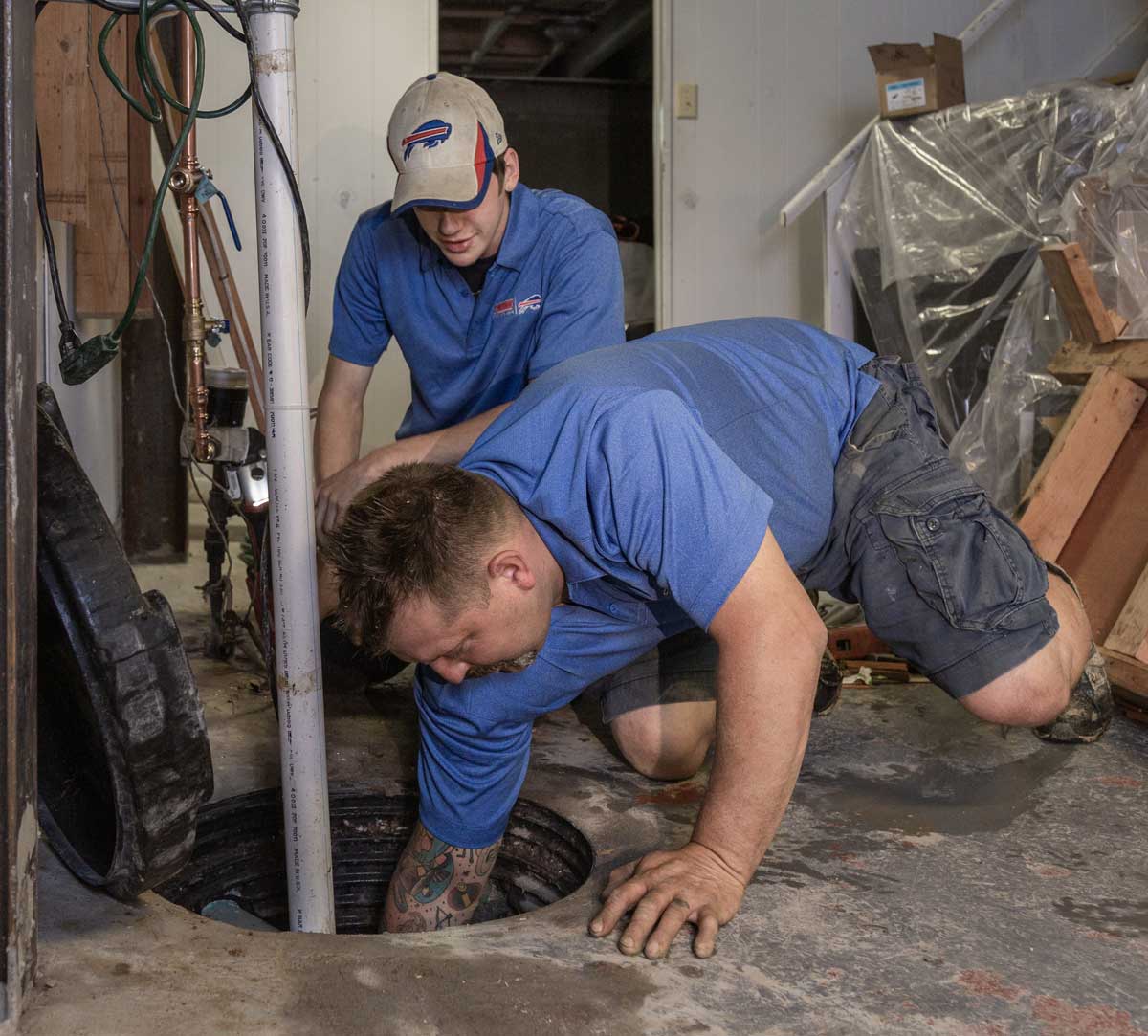 Serving Buffalo and Western New York for over twenty years, T-Mark Plumbing, Heating, Cooling & Electric combines cutting-edge technology with experience and expertise to effectively clean drain and sewer lines.  Our fully licensed and qualified team provides accurate diagnoses, honest recommendations, and trustworthy solutions. We simply don't give up until your plumbing system is operating at peak capacity.  Whether you're faced with a concern, sudden clog, or taking preventative steps, T-Mark Plumbing, Heating, Cooling & Electric handles every job with the same meticulous attention to detail.
Top Quality Drain & Sewer Cleaning Service
Family-owned and operated, T-Mark Plumbing, Heating, Cooling & Electric focuses on 100% customer satisfaction.  Recognizing the mess, disruption, property damage, and even health risks caused by drain and sewer issues, we don't add to the problem by keeping you waiting or leaving behind mess or debris.  Taking proven and proactive measures, we deliver both immediate and long-term results, ensuring optimum flow through your drains and pipes. Give us a call at (716) 249-0029 for professional and affordable Drain/Sewer Cleaning throughout Buffalo and Western New York.  We are always available to resolve emergency situations, 24 hours a day, 365 days a year.
Contact T-Mark Plumbing, Heating, Cooling & Electric for Drain/Sewer Cleaning when you notice:
Slow-moving drains in the house
Unpleasant drain odors
Standing water in sinks or tubs
Water backing up into tubs/sinks after flushing the toilet
Difficulty flushing the toilet
Gurgling sound in pipes
Sewer Jetting, Clogged Sewer Cleaning & Clogged Drain Cleaning

Buffalo, NY, Orchard Park, NY, Clarence, NY, Kenmore, NY, Amherst, NY & Cheektowaga, NY
Sewer Jetting in Orchard Park, NY | Drain Cleaning Clarence, NY | Clogged Sewer Cleaning Hamburg, NY
Drain Cleaning

∴

Clogged Drain Cleaning

∴

Clogged Sewer Cleaning

∴

Sewer Cleaning

∴

Sewer Jetting ∴ Cheektowaga, NY ∴ Hamburg, NY ∴ Orchard Park, NY